Autumn Pumpkin Floral Centerpiece
A simple and elegant centerpiece, perfect for Fall weddings and Thanksgiving.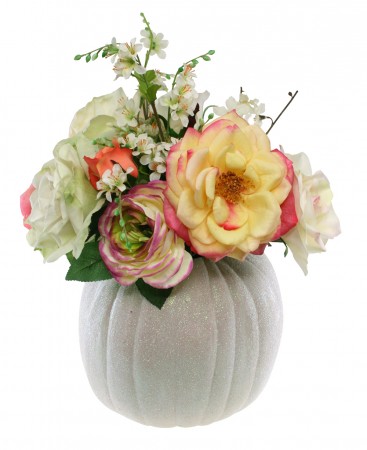 Project Instructions:
Designed by: Lori Butler
Skill level (1-5): 2
Time to complete:  30 minutes
Age range: 8+
Messy level (1-5): 2
Materials:
Advantus/Sulyn Extra Fine Glitter Stacker: Crystal Diamond  (SUL50860 UPC 717968508607)
White craft pumpkin
Silk flowers
Craft brush
Craft knife
Craft glue
Scissors
Steps:
Cut stem area off of pumpkin, remove.
Using craft brush cover  pumpkin with craft glue, sprinkle with Crystal Diamond Glitter, let dry.
Trim flower stems to desired length, insert into pumpkin.