Glittered Egg Chicks and Bunnies on Pom Pom Garland create an adorable Easter banner!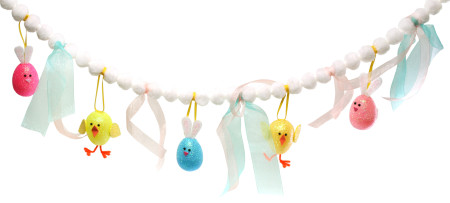 Supplies
Artminds Glitter – Rose Quartz (#271713  UPC 886946254277)
Creatology Glitter Pack – Neon (#220136  UPC 40010099132)
Creatology Pom-Pom Garland – White (#241838 UPC 886946097560)
Creatology Pompoms – white, 1 inch (UPC 400100232088)
Felt or fun foam – yellow, white, orange, pink
Plastic Easter eggs
Glue
Hot Glue
Tiny black beads
Chenille Stems – orange
Scissors
Assorted ribbon – pink, blue
Steps
Cut out (4) wing shapes from yellow felt or foam, cover with glue and yellow glitter, let dry.
Cut out (6) ear shapes from white felt or foam, cover with glue and crystal or pink glitter, let dry.
Cut out (2) beak shapes (diamond shape) from orange felt or foam, fold in half, glue to chick eggs.
Cut out (3) pink triangles for bunny noses.
Cover each egg with craft glue, sprinkle with coordinating glitter, let dry.
Fold chenille stems for chick feet, hot glue to chicks as shown.
Hot glue chick wings and bunny ears to eggs as shown. Glue eyes to eggs, noses to bunny eggs.
Hot glue ribbon to top of each egg, tie onto pom pom garland as shown.
Tie lengths of assorted ribbon between eggs.