Glittered Snowmen on Pom Pom Garland create a Jolly Holiday Garland!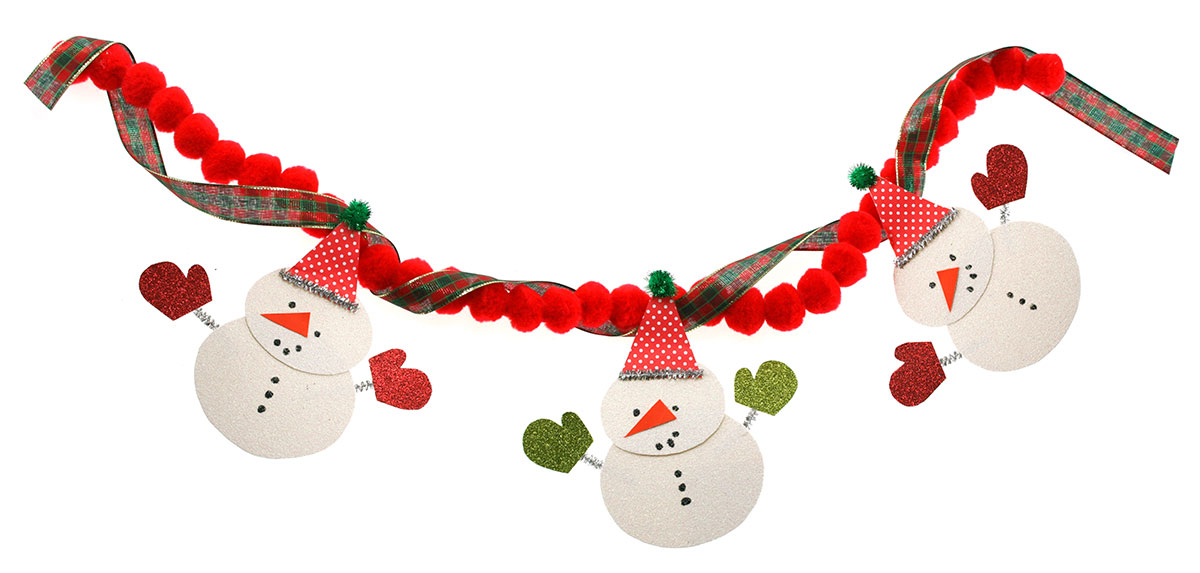 Supplies
Artminds Glitter – Crystal Diamond (#226118  UPC 400100025710)
Artminds Glitter – Emerald (#226110 UPC 400100025642)
Artminds Glitter – Ruby (#226105 UPC 400100025598)
Creatology Pom-Pom Garland – Red (#241836 UPC 886946097539)
Artminds Glitter Liners- Silver/Black/Opal (#226031 UPC 400100024966)
Creatology Pompoms – Sparkle
Card stock – white, orange, red, green, red dot
Glue
Hot Glue
Chenille Stems – Sparkle Silver
Scissors
Plaid ribbon
Steps
Cut out (3) small ovals and (3) large ovals from white card stock using pattern, cover with glue and Crystal Diamond glitter, let dry.
Cut out (6) mitten shapes from red or green card stock,  cover with glue and Emerald or Ruby glitter, let dry.
Cut out (3) hats (triangle shape) from red polka dot paper, glue pom-pom to top, and section of chenille stem across bottom for hat.
Cut out (3) small triangles from orange for carrot noses.
Glue ovals together to form body.  Glue hat to top of head.  Glue carrot nose to face.
Hot glue mittens to chenille stem piece as shown. Glue to snowman body as shown.
Wrap ribbon around  pom pom garland as shown.
Glue snowmen to garland.