Ombre Pink Stretch Bracelet
Fun to create and easy to wear; this pink bracelet adds a touch of stylish ombre to your outfit.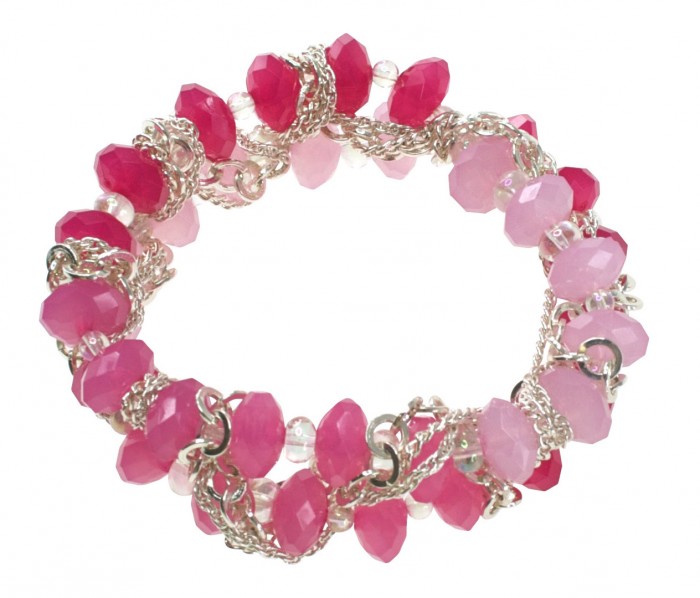 Project Instructions
Designed by: Jess Danos
Skill level (1-5): 2
Time to complete: 1-2 hours
MATERIALS:
1 Advantus/Sulyn 14 inch 12 mm Ombre Bead Strand, Pink (SUL52214, UPC 717968522146)
1 Advantus/Sulyn Multi Chain Necklace Kit, White Nickel (SUL52255, UPC 717968522559)
1 Jewelry Fundamentals Glass Beads Tube, Opal Bubbles (SUL14645, UPC 717968168344)
24 inches of 0.7 mm stretch cord
Tape
Scissors
Ruler
Jewelry glue
2 needle nose pliers
STEPS:
Cut 24 inches of 0.7 mm stretch cord.
Fold cord in half and cut. Place tape 1 inch from end of both cords.
String on beads for both cords.
Secure with tape for both strands.
Attach the end of all three chains to one jump ring. Attach another jump ring connecting the other ends of the chain.
Weave connected chains in and out of bracelet.
Tie cords into a knot and secure with glue.
Open jump ring and connect to other jump ring to connect chains together.
Trim excess cord.