St. Patrick's Day Garland
Glittered Shamrocks on a Pom Pom Garland make a charming St. Patrick's Day banner!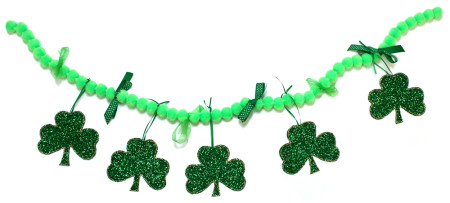 Supplies
Sulyn Glitter – Kelly  (SUL6632-04  UPC 717968107947)
Sulyn Glitter Glue – Gold (SUL6684-01  UPC 717968118783)
Creatology Pom-Pom Garland – green (#241838 UPC 886946097560)
Creatology green fun foam
Glue
Small hole punch
Scissors
Assorted ribbon – green
Steps
Easy shamrocks: Cut out a heart from foam in the size you want the shamrock section to be, lay heart on foam and trace three times, moving heart to form the shamrock shape.  Add stem, then cut out!
Cover each shamrock with craft glue, sprinkle with Kelly glitter, let dry.
Outline around edge of shamrocks with Gold glitter glue, let dry.
Punch hole in top of each shamrock, thread ribbon through, tie onto pom pom garland as shown.
Tie lengths of assorted ribbon between shamrocks.