Glitter Hearts on Branches, for a Valentine's Day centerpiece!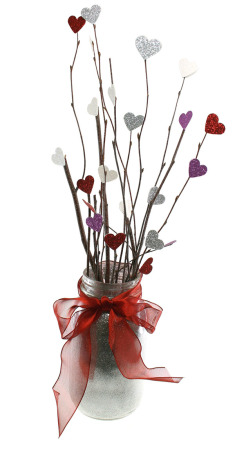 Supplies
Creatology Valentine's Day Glitter Shakers  (SUL206961 UPC 400100938676)
Assorted red, white, pink, lavender cardstock
Small heart paper punch
Scissors
Red ribbon
Beacon Glitter-It Glue
Craft glue
Hot glue
Mason jar
Branches
Steps
Cover inside of jar with silver glitter using Beacon Glitter-It glue according to directions, let dry.
Cut out several hearts from colored paper.
Cover hearts with craft glue and coordinating glitter, let dry.
Arrange branches in jar.
Glue hearts to ends of branches as shown in photo.
Tie ribbon around jar.